33 Minecraft Building Ideas You Need to See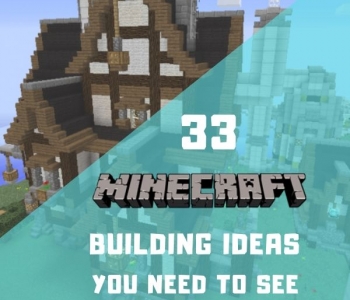 33 Minecraft Building Ideas You Need to See
17.05.2020
Looking to impress your friends with your amazing building skills? Or just looking for some interesting projects to take on, to enjoy the process of building something cool from scratch and then seeing it finished?
From small survival houses, pirate ships to huge modern mansions and castles, you'll be amazed by the amazing buildings you could create in Minecraft!
Do you know what's the best part? We actually have all of the blueprints of these buildings available on our website, so you could choose which one you like the most and start building it using our blueprints. Here is a blog post on how you could use the blueprints to build these awesome buildings all by yourself!
Some of the buildings will take a longer time to build while some will take less, but finishing each one of them will be totally worth it!
Here is our list of 33 Awesome Minecraft building ideas
1. Stylish Survival House
Your own survival houses look boring and nothing special? Well, you could always build a stylish one! Check this one out. When building this house, You should really concentrate on the details - that's the key to perfection! Here is the Blueprint for the Survival House.
2. Modern House
Ever thought how to build a Modern House in Minecraft. Well, check this one out. It is very minimalist. There is even a small pool in the yard and a huge porch where You can relax and enjoy the fresh air. Here is the Blueprint for the Modern House.
3. Medieval House
Doesn't this house look amazing? Look at the stone walls and the house details. There are few small windows around the house and everything looks classy. This particular medieval house is small, but well it is cute and pretty easy to build. So if You want to own this house yourself then check out the blueprints to build it in here.
Here is the Blueprint for the Medieval House.
4. Treehouses
Who doesn't love treehouses? These remind you of childhood and all the fun long days climbing on the trees and running around aimlessly. There are a bunch of different ways to build tree houses and many of them are available on our website as well. Go ahead and build one! Here is the Blueprint for the treehouse.

5. Victorian Style House
You know what? It's time to go back in time. Who wouldn't want to live in a house like that. Look how beautiful and cozy it is. And the design is gorgeous too, all of these colors together...very artistic, am I right? Here is the Blueprint for Victorian Style House.
6. Eiffel Tower
Paris is always a good idea. Doesn't matter if You want to actually go to Paris or if you're working on Your next Paris-related Minecraft project. So why not build the most famous building in Paris- the Eiffel Tower. Just build it and let your friends be amazed by its glory and your building skills.
Here is the Blueprint for the Eiffel Tower.
7. Huge Modern Mansion
Bigger equals better? It definitely does with this Huge Modern Mansion. Just look at it - there is literally everything in that house - a pool, many rooms, library, basketball court, garden, etc. It looks amazing and really expensive. That's why they are so fun to build! You could even get lost inside there.
Here is the Blueprint for the Huge Modern Mansion.
8. Modern Apartment Building
Now, these are cool. You can build modern apartments as well in Minecraft! The apartments are spacious and very modern, they are unfurnished so to fill them is left up to You. You could build this to Your Minecraft server game and then You all have a place to rest, relax or even have a cold beverage beside the pool on the roof - how awesome is that! Here is the Blueprint for the Modern Apartment Building.
9. Medieval Castle
Just look at this. Isn't it amazing? Big, medieval, beautiful and super majestic castle guarantees You the feeling of a real king. Here is the Blueprint for the Medieval Castle.
10. Victorian Castle
The design of this castle here is really detailed. The dark and light colors together are perfect, you have big rooms, and overall this castle has a very majestic look. Having built this castle, you definitely deserve a medal and praise from fellow Minecrafters. Here is the Blueprint for the Victorian Castle.
11. UFO
You weren't expecting to see this right? A giant UFO in the Sky. Imagine someone seeing this for the first time, they will be pretty surprised :)
Here is the Blueprint for the UFO.
12. Cottage
Now, this is the house you would want to spend your summer in. It's cozy, has a balcony, a terrace, and even a small bond. A cozy cottage is a must-have and definitely a fun thing to build. Here is the Blueprint for the Cottage.
13. Fountain
You can build a water fountain in Minecraft? Yes, you can! It's small, effective, and can be seen from a distance. Also, relatively easy to build. Every world could benefit from having a fountain. Just build it! Here is the Blueprint for the Water Fountain.
14. Pirate Ship
Want to build The Black Pearl in Minecraft? It's possible! Check this one out. Who knows, you might even find some hidden treasures while building it. Definitely a very cool Pirate ship to show off to others. Here is the Blueprint for the Pirate Ship.
15. Nuclear Submarine
A submarine! Go ahead - build it deep under the water, make a tunnel to it and You can hide from everything and everyone into Your submarine under the deep-deep blue! It doesn't look too complicated either, but realistic! And that is the most important thing, isn't it? Here is the Blueprint for the Nuclear Submarine.
16. Notre-Dame, Paris
Paris never stops surprising us with it's amazing monuments. This time I'm showing You Notre-Dame. Wanna know what makes it so special? It is widely considered to be one of the finest examples of French Gothic architecture and it's among the largest and most well-known church buildings in the world. That's why it's so amazing! Here is the Blueprint for the Notre-Dame.
.
17. Skyscrapers - NY Chrysler Building
What do You think of building a very realistic Chrysler building in Your Minecraft? Take a look at this building here, isn't this amazing? Now that is an awesome project to take on. It might take You quite a lot of time but the result will be pretty impressive. Here is the Blueprint for the Skyscraper.
18. Bridges
Many rivers around your base? Build a bridge to easily cross them. Check out this awesome Medieval Gate Bridge With Towers.
Here is the Blueprint for the Bridge.
19. Farm Buildings
Why not build a farm, where you could keep all of your farm animals! You could also build a stable for horses or even windmills. We have blueprints of all of them on our website. Here is the Blueprint for the Farm building.
20. Military Buildings
Watchtower, factorys, air fields, barracks - you can build them all! Here is the Blueprint for the Military Building.
21. Cars
Can you imagine a car made of squares in real life? Well, almost all of them have many curves, so building a car in Minecraft will not look the prettiest. One option is pretty cool though still, as you could build this Range Rover. Here is the Blueprint for the Range Rover.
22. Memes
Fancy building a meme? How about building a Grumpy Cat meme in your world!? This one also looks quite realistic to be honest and building it is no easy feat. Here is the Blueprint for the Grumpy Cat.
23. Planes
With Planes, there are tons of different ones to build! You could build a big Boeing passenger plane or a fighter airplane from World War II. Check out the different options for planes with blueprints in here. Here is the Blueprint for the Boeing.
24. Helicopters
Get to the Choppa! Good news for those who like the military theme and especially the air forces! You can create a nice and big military helicopter, which looks like an actual military vehicle. It's fuselage is green and it has huge propellers on top of it. Here is the Blueprint for the Helicopter.
25. Spaceships from Star Wars
Who doesn't love Star Wars. Everyone does! As for any Star Wars lover, it's an honor to have an opportunity to build Tie Fighters Yourself! They look pretty close to those from the movies, surprisingly close I must say. Challenge Yourself with this amazing Minecraft model!
Here is the Blueprint for the Tie Fighter.
26. Fictional buildings - Spongebob
Who lives in a pineapple under the sea? Spongebob Squarepants!! Did you know that you could easily build Spongebob's home in Minecraft? Check it out.
Here is the Blueprint for the Spongebob's Pineapple House.
27. Fictional Characters
And of course, you don't only have the option to build Spongebob's pineapple house, but you can build the man himself as well. Have him in your world and you'll have a reason to smile every day. Here is the Blueprint for the Spongebob Statue.
28. Stadiums
Have your own PopularMMOs arena or you could build a modern Sports arena. Here is the Blueprint for the PopularMMO arena.
29. Walmart
Oh yes, the lovely walmart. The store where you can get almost everything you need. Everybody knows that Walmart is almost everywhere in USA, but who knew it will expand to Minecraft as well... Here is the Blueprint for the Walmart.
30. Ruins
Ruins can be pretty creepy in real life, so in Minecraft, obviously, its hard to build something of a familiar effect. But still, this particular ruin looks pretty cool, don't you think? Here is the Blueprint for the Ruin.
31. Parks
Who doesn't love parks, especially if they are big and spacious? Check out this Imperial park you could build in Minecraft. Here is the Blueprint for the Park.
32. Portals
Portals? Now we are talking. Portals are pretty easy to build and here is one cool example of a Large Nether Portal. Here is the Blueprint for the Portal.
33. Giant Zombie
Super cool and easy to build. A way to totally punk your world visitors. This one is much recommended to build. Here is the Blueprint for the Giant Zombie.
Well, here was our list of 33 awesome Minecraft building ideas. We hope you got some inspiration and ideas for your next builds! Check out our blueprints - we have over 6000 of them, which means you will never be short of ideas again!